Make Your Naturist Holiday at a Nude Beach an Enjoyable and SAFE One
Whether spending your naturist holiday on a nude beach or next to a swimming pool safety is a major issue.
The only time we have not been near water on a naturist holiday is when we rented a timeshare and had to drive for half an hour a day to get to the local nude beach. We will not make that mistake again!
Before we get onto safety issues let's consider the type of naturist accommodation there is available. Perhaps the most expensive would be a gite or any type of private residence. Jan and I once rented a small fermette with a couple of friends. It wasn't advertised as naturist and so I made a point of mentioning that we were naturists to the owner before booking. It wasn't a problem for her but she did warn us to look out for the farmers wife just down the road when she was hanging out the washing! It is worth checking with the owner before booking.
We will be featuring naturist gites on this website fairly soon!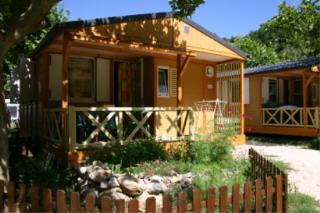 The other forms of naturist accommodation are most likely to be at official nudist resorts. This is in the form of mainly chalets, mobile homes or camping pitches. Just about all will have some form of swimming area either in the form of a swimming pool, lake or nude beach. The larger resorts will also employ lifeguards for the swimming pool or there will be local 'guards' on the beach.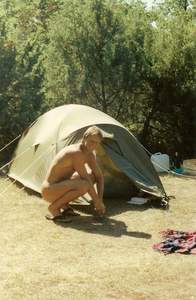 From a safety point of view on the campsite there is very little to worry about. We are never worried about Harry, our grandson, cycling. Cars drive very slowly and on some naturist campsites they are allowed only to unpack equipment and are then parked in a separate area away from the camping.
Just one word of advice. During our first time at a naturist resort Jan and I went off site to go shopping. As can occassionally happen, a huge rain storm arrived dumping a load of rain in a very short time. By the time we returned it had stopped and, fortunately, our German neighbours had dug a shallow trench around our tent to prevent us from getting flooded. This is always worth doing if the ground is soft enough.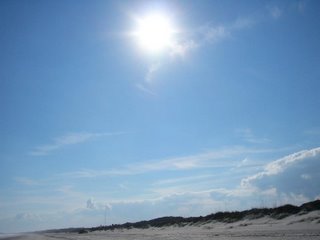 The greatest potential danger is likely to be on the beach. It is vitally important to protect the skin against the effects of the sun. A sunblock of at least 15 is advisable (more for children) and reapply regularly, particularly after swimming. Don't forget the bits that don't normally see the sun!! Sunglasses are also important as well as some form of headwear. You will also see many umbrellas or miniature tents on a nude beach. Try to get a tan gradually rather than 'going for the burn' then being in pain for the next few nights and peeling for the next fortnight.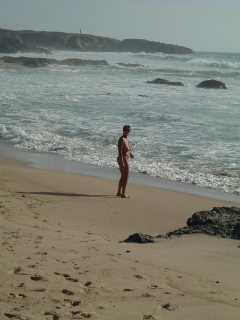 More of an immediate danger is the sea. The Atlantic coastline of western Europe down through France ,Spain and Portugal is very tidal and needs great respect. It is very popular for surfing because of the regular waves that come in that you don't get on the Mediterranean. When a wave comes in to the beach the water has to go out again and this can often cause a 'rip' current. You can spot these because it is a smooth body of water which often has waves breaking either side of it and the waterline will be lower. Keep well clear! They can travel very quickly and there is no chance to swim against them. If there is a lifeguard presence they will ensure that the swimming area is well away from the rip.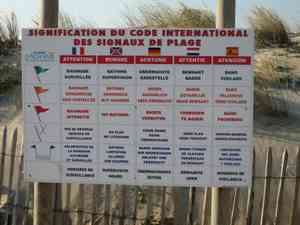 The flags marking the safe swimming areas vary between countries. In the UK they are red and yellow whereas in France they are blue. At this point I must say that the lifeguards at the nude beach at Arnaouchot are excellent. They wear costumes, normally with white teeshirts and carry fins. If anyone strays out of the area the 'guards' blow a whistle immediately and, having seen them in action, they are very efficient. The nude beach at Euronat is equally well guarded.
Another potential problem that I have been aware of more in Cornwall than anywhere else, is the weaver fish. It has a barb on its back and buries itself in the sand and, believe me, if you stand on one the pain is hard to describe.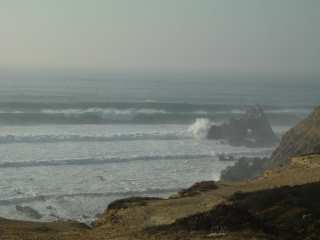 The best thing do do is bathe the sting in hot water (or Coffee). Let the lifeguard know and he may well have pain killers and hot water if you don't have any. Be reassured. The pain will ease and it is not life threatening but it is not an experience I would like to repeat.
This all sounds a bit like doom and gloom. Far from it. The chances of any of these things happening to you are very remote and by being forewarned are even less likely.
We hope that this will be of some help. There are bound to be things we haven't mentioned that you may be able to help with. If so please click on this link to contact us.
Have a great summer and let us know about your holidays and your favourite nude beach!
Jan and Rog
Return from The Holiday to Travel Tips Return from Nude Beach Holiday to Naturist Holiday Guide Home Page