Our Holidays at Arnaoutchot

Well, despite the many restrictions in place, we have already managed to get to Arna at the end of June.
We had a great time. We ate at the restaurant on a couple of evenings and had a takeaway pizza on another.
There was entertainment in the main outside bar area on several evenings, and there was the usual outdoor market on the Monday evening.
As far as precautions were concerned, there were hand sanitisers around the resort and face masks were worn when in the shop and inside the bar.
This year, Jan had a massage for the first time which she thoroughly enjoyed, and we also had our first attempt at archery which was great fun.
All the washrooms and washing up areas were open as was the beach which did not appear any different to previous years, except of course for the social distancing.
The conclusion to all this is that we would have no hesitation to recommending a visit to Arna this year. We are going again soon.
------------------
Been again in mid July. Another great 10 days!

**UPDATE 2019**
Our Arnaoutchot experiences were even better this year. Firstly, we managed to visit three times, a record for us. Secondly, it was the first time that we had stayed there in our motorhome.

Now that Jan has finished working throughout the summer, we have more scope to visit when we want.

Our first visit this year was in early July. Taking the motorhome was a whole new experience for us, and what a great experience it was. The pitches in CC area are large, with electricity and with the washrooms within a minutes walk.
On one of the evenings there was a cabaret in the open theatre. This is overlooked by some of the exterior tables of the restaurant, and it was recommended by reception that we book one of these tables.

What a fantastic evening. The meal was as ever, excellent, and this was made even more enjoyable by the first class cabaret. This is definitely an experience we will repeat.

On another evening we had a meal in the other open area outside the restaurant and were entertained by a really good band.

Also, on Monday there is a lovely little market with stalls selling crafts, clothes, and food and drink!

The second visit was only a couple of weeks later, just as enjoyable with a different pitch, just as good!

Our third visit was during the last week of the season. We had a lovely meal of moules frites on the final evening of the restaurant. The shop closed on the Saturday, so we stocked up to be more self sufficient.

| | |
| --- | --- |
| | |
During this time it is still possible to order bread and croissants from reception for the following morning.

Sorry Arna, but you are going to see a lot more of us in the years to come!

---
**UPDATE 2017**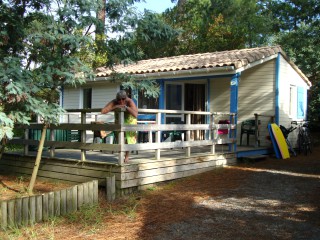 Yet again, we managed to get our 'Arnaoutchot fix' this year.
The summer would not seem complete without spending some time here!
Again, it was towards the end of September and we spent most of the days sunbathing either on the beach or by the swimming pool.

This year we stayed in a Chalet Chevreuil in Chibottes, very close to reception and wonderfully secluded.

We had plenty of space as it can accommodate up to six people.

The restaurant was open and we, yet again, had a fantastic meal there. We would certainly recommend you put that on your 'wish list' for your stay.

We also visited a Cabane Marensin which are new for this season. Lovely accommodation and definitely worth considering for your stay. They are very popular and we left it too late to book one. Book early to avoid disappointment.
---
**UPDATE MAY 2016**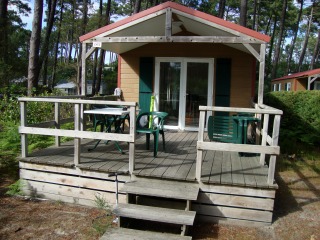 We have just returned from five brilliant days at Arnaoutchot.

For the first time we stayed in a Cottage Duo which was perfect for us. It is the ideal size for two people.

The weather was really good and we went to the beach on most days. If not, we just lay by the pool.

The supermarket was open each day where we bought our food for self catering. On the final evening we had a great meal at the restaurant, as you can see from the photographs.

Arna is a lovely resort and off peak is a great time to stay there if you are able to.
---
** UPDATE 2014  **
We spent a week in a chalet at the end of September. Absolute bliss!
We stayed in a chalet because the evenings were drawing in earlier and it would have been quite cold sitting outside the tent.
However, the days were fantastic.  Each day on a very quiet beach, as you can see with the picture of Jan, with temperatures in the mid twenties. Perfect!
If you are able to get away at this time of the year it is well worth considering. The weather can often be really good, the sea is still warm, and it is a great way to end the summer.
Also, in 2015 Arnaoutchot is staying open until 4th October!

---
** UPDATE 2013 **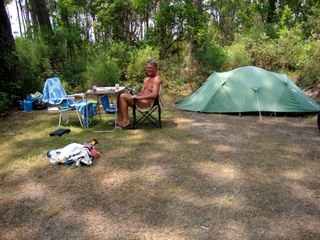 We have just returned from three wonderful days at Arnaoutchot. In the middle of a mini heatwave, so a lot of time spent by the pool or on the beach, sea temperature 23 degrees.
We had a really good pitch in 'Far West', but all the pitches are very spacious.
We had  a lovely meal at the restaurant on our last night. There is a very wide choice ranging from sea food, to pizzas, to steak, to what we had, duck breast, which was cooked perfectly. Children are also very well catered for.
Can't wait to return!

---
** UPDATE 2011 **
Just returned from another wonderful few days at Arnaoutchot. Mid September is a great time of year to visit, if you can! Weather was hot, campsite very peaceful and all facilities open!
Fantastic pitch in Le Tuc area and we had a good look at the Nid Perche as you can see from the photographs below!
| | | | | |
| --- | --- | --- | --- | --- |
| | | | | |
---
** UPDATE 2009 **
Back again!!! This time with Harry. We can't keep away!
---
** UPDATE 2008 **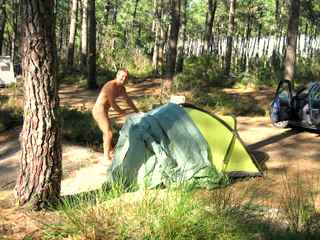 Thankfully we managed to spend a few days in September at Arna.
One of the advantages of going during school time is the quietness and space, although it can be a little cooler!
We stayed in the 'Sauvages' area and had the pick of the sites, just as we did last year.

We chose a lovely one very close to the beach and jogging trail.
The weather was mostly fantastic, so we managed to spend a good amount of time relaxing at the beach. The sea was a lovely temperature, but we had to be a little more careful as there were no lifeguards.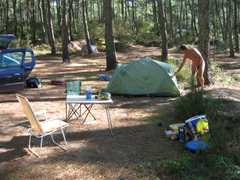 We brought our road bikes with us for the first time this year, and cycled into Leon for breakfast a couple of times. They really cater for cyclists here - it was practically cycle path the whole way! Next year we may try and cycle even further afield.
The evenings and nights were warm enough to sit outside the tent (we had no choice of course!) and play numerous games of backgammon as well as cook up our lovely meals.
We really enjoyed our break here again and cannot wait to return to Arna in 2009.

---
Click here to visit the Arnaoutchot website
Return from here to the France page
Please subscribe to our newsletter Naturist Times. It tells you regularly about updates to our website plus other interesting naturist bits and pieces.