Naturist Times, 29 October 2011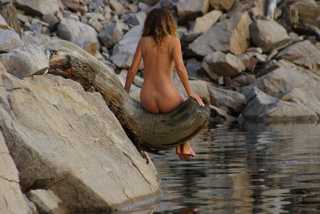 Naturist Times brings you news of updates to our website and other naturist 'bits and pieces'.
If you like this newsletter, please do a friend and us a big favour by sending it on.
If a friend did forward this to you, please subscribe by visiting www.naturist-holiday-guide.com


---
Winter's Here
Lets Start
PLANNING!
What a great summer! Plenty of camping, sun, family visits, parties, and to cap it off, the Rugby World Cup! I don't think the French could have got more laid back about reaching the final if they tried! Still, the team gave it a good bash!

Although, as naturists, this is probably the time of year we do not get particularly excited about, we have more new naturist news which will, hopefully, whet your appetites!



---
Alicante Nudists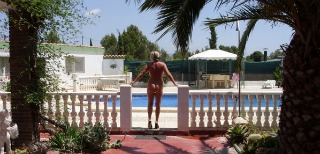 If it is an adults only holiday that you are looking for, then Alicante Nudists could be ideal for you!

Maggie and Ian welcome all adults to their wonderful bed and breakfast villa and cabins, which are set in a beautifully private setting in the lovely Costa Blanca area of Spain.

Alicante Nudists is perfect for that all over tan. It is so private that you can be naked for 24 hours a day!

Maggie and Ian are very welcoming to singles, couples or party groups.


---
Villa Elephante Blanco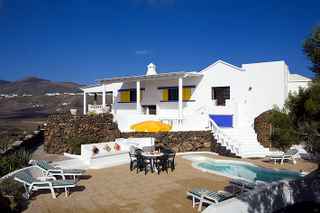 If owning your own luxury villa on naturist friendly Lanzarote is one of your goals, then this could be the opportunity you have dreamed of!

Villa Elephante Blanco, one of the most stunning properties on naturist friendly Lanzarote, is on the market! The villa is situated between Macher and La Asomada and is just a ten minute drive from the airport at Puerto Del Carmen.

The fact that there are no neighbours in any direction make this an ideal property for naturists.

Villa Elephante Blanco consists of not only the Main Villa, but also a Courtyard Apartment.

Interested? If so you can actually stay there! The owners of Villa Elephante Blanco are prepared to accept rental bookings in the short term ie. in the period up to 3 months ahead of reading this.
---
Vasnat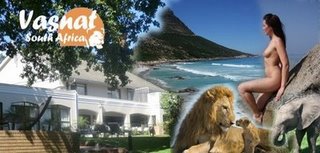 Looking for winter sun? How about between December and March temperatures averaging 30 degrees C. and 14 hours of sunshine.

Well this is what Vasnat Spa Resort can offer you! What is more, it is opening its doors for the first time on 10th December this year.

Vasnat is situated in Somerset West in the south east of the Western Cape Winelands at the foot of the Helderburg Mountains of South Africa.

The accommodation consists of eight spacious suites in the main house and four cottages. Each of the suites and cottages has its own private sunbathing patio or terrace!

The vibrant and friendly staff will always be on hand to ensure that you get the very best from your naturist experience at Vasnat Spa Resort.


---
Arnaoutchot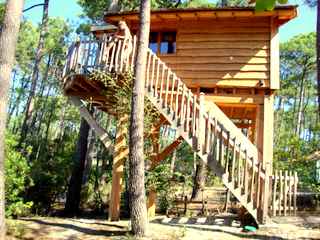 Recently returned from another wonderful few days at Arnaoutchot . Mid September is a great time of year to visit, if you can!

Weather was hot, campsite very peaceful and all facilities open! Fantastic pitch in Le Tuc area and we had a good look at the Nid Perche (tree house) as you can see from the photograph!

There are now three Nid Perche which get completely booked from April through to September! So if you fancy booking one get straight on to Arna now!


---
Ferry Ports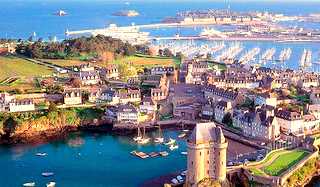 We have recently added a 'Ferry Ports' page to our website! The reason behind this is to open the possibility to you of an overnight stay in one of the French ferry ports if it coincides with your ferry crossing!

We have done this quite a few times over recent years. We are now discovering areas that we previously did not know existed because we had probably stayed a couple of hours away from the port and just driven straight onto the ferry.

Places such as Roscoff and St.Malo(above) are lovely and certainly worth a visit and an overnight stay if possible!
---
Updates!
Updates since our last newsletter!

Apartment Borzoi - The apartment in Spain now has a king size bed and a double bed!

Leucate - The villa now has WiFi. 2012 filling quickly!



---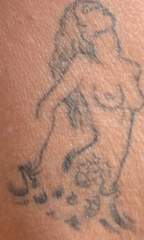 If you do contact any of the many wonderful naturist accommodations that appear on our site we would really appreciate it if you mentioned the Naturist Holiday Guide. Many thanks!

Thank you, also, to everyone who gets in touch with us! We really enjoy hearing from you and appreciate your input towards our site.

Another newsletter will be following again soon!

Rog and Jan