Naturist Times, 11 April 2009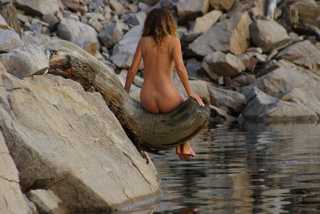 Naturist Times brings you news of updates to our website and other naturist 'bits and pieces'.
If you like this newsletter, please do a friend and us a big favour by sending it on.
If a friend did forward this to you, please subscribe by visiting www.naturist-holiday-guide.com


---
Get the Suncream Ready!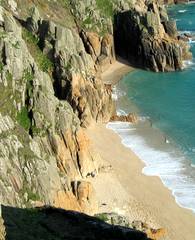 After a prolonged stay in the UK we are now back home in France and already planning our first camping trip, hopefully in the next three weeks because many campsites are already open! Whilst in Cornwall we made our first trip to our favourite beach, Pedn Vounder, and have started our 2009 suntan! The good news is that there is plenty of sand down there!

This photograph was taken on 22nd March 2009.




---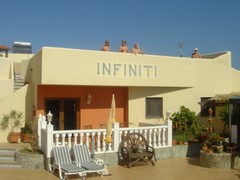 Infiniti, in Fuerteventura, was designed for naturists! It is a blend of wonderful villas, pool and sunbathing areas, and the fantastic Canary Islands climate! As well as the superb accommodation, the sunken pool giving seclusion, shelter and privacy they have also added a spa and sauna, and many other little "extras" which are free to guests of Infiniti. There is also the bonus of naturist beaches nearby!




---
Imagine two villas and a swimming pool with wonderful sea and mountain views. You have miles of beautiful beaches nearby and in the evening return to a barbeque and a drink at the bar. Spend a day naked, cruising on a yacht. Then think of the beautiful Greek sunshine burning down on you. You are at 'Figleaf Villas', recently opened by Cliff and Quee and situated in the Peloponnese region of Greece.


---

If you were to visit either 'Infiniti' or 'Figleaf Villas' you are certainly going to fly, and quite possibly will want to hire a car. After a great deal of research we have come across CarRentals.co.uk , an award winning car hire company. To check on their prices just click on the link!


---
You may have read about Vassaliki Naturist Club on our site before. However, Mark and Sam have just contacted us with a fantastic early season offer. Find out about their Half Price May Offer!!


---
NATURIST CRUISING
Fellow naturists, Chris and June, are cruising on their boat this Summer from the Carmargue to the Greek Islands and have been looking for other naturist couples to share this trip with.
They have quite a few stages of the journey booked but still have space for the return trip from the Ionian to the south of Italy/Sicily and on to Sardinia - Corsica and back home to Frontignon on the Camargue.
This will take place during September/October and will cost very little, just cheap flights, food costs, diesel ( which is not a lot with a sailboat) and moorings when the weather does not allowing anchoring.
If this is of interest to you please contact Chris and June at chrismodel@msn.com


---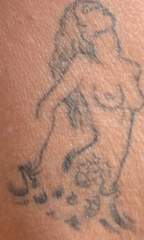 Thank you, again, to everyone who contacts us! We really appreciate your input towards our site.

Don't forget! If you see this tattoo on a man's hip come and say hello. Hopefully, it will be me!

Keep in touch!

Jan and Rog


---