Naturist Infiniti
Look No Further!

When Ian and Ruth and their partners, Ian and Brenda, designed Infiniti at Corralejo on Fuerteventura it was certainly their intention that it should be ideal for naturists. . . . and so it is…..
. . . . . superb and varied accommodation with the seclusion and unique facilities that make Infiniti so special. There is one large villa, two brand new 'casas' and eight apartments - so there is something to suit every size of party, ranging from someone on their own to large family celebrations.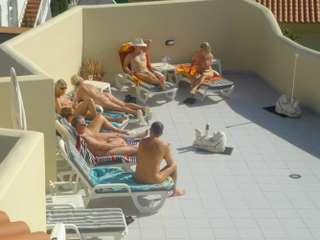 Infiniti has eight apartments, seven having 1 bedroom and one with 2 bedrooms, the second bedroom being small. Two of the 1 bedroom apartments are on the first floor.
The apartments are similar in size although the detail design of each one is slightly different.
Each has a spacious lounge with glazed door leading onto the large terrace or patio where there is a dining table and chairs and views of the pool.
The open-plan kitchen has a breakfast bar and is outstandingly equipped. The bedroom with either twins or a king size bed and the bathroom with shower completes the accommodation.

Two new 'casas' have been created from one of the villas and details of both, together with our existing large villa, can be seen on the Infiniti website!
This photo of the lounge of Casa Amber gives a flavour of the standard of the new casas.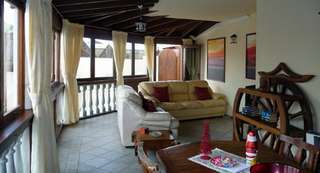 In designing Infiniti the owners built in, for the benefit of apartment and villa guests alike, many facilities not normally found in privately owned accommodation, including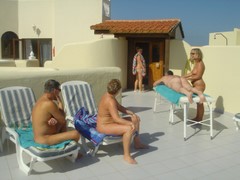 Reception/office with shower and toilet for late departures/early arrivals. 
Spa.
Heated pool.
Second floor roof-terrace 'panoramic' with seating and views towards Lanzarote and Lobos.
A parking space for each property.
Office with internet facilities including WiFi and library etc.
First floor all-year-round Naturist roof-terrace and Sauna.
Wall safe in all properties.
Irons, ironing boards, hairdryers available.
Small shop for the essentials of life.
and much more
There is, of course, no charge for any of these facilities.
In addition all guests have their own exclusive management team living on site to look after them and ensure a trouble-free stay.

Naturist facilities are available throughout the year, although at times this is confined to the "clothes optional" rooftop solarium and sauna which is always available.
These times particularly appeal to couples where one "is" and the other "isn't" and for people wanting to experience a naturist holiday without being too committed.
For 2011 the dates when Infiniti is 'all over' naturist are 20 April to 23 July inclusive, although if you would like other dates please ask, as sometimes the time is extended. For up-to-date details please see their website. 

There are Naturist facilities in the Villa and one Casa at all times.
Many visitors prefer to take one of these properties where they can be naked in and around their accommodation and can enjoy their own secluded naturist terrace with a private spa and their own rooftop solarium all year round.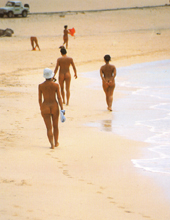 For those unfamiliar with the island, Fuerteventura with its miles of white sandy beaches, has long been a favourite with naturists of all nationalities.
Indeed in a recent survey for the book "Bare Beaches" Fuerteventura was voted the world's best naturist island. Over the years, as tourism developed, many of the islands beaches have "textile" accommodation nearby losing those beaches their virtually exclusive naturist tags.
Fortunately the National Park beaches near Corralejo have seen little change as no building is allowed along long stretches. It is not surprising that the same survey in "Bare Beaches" has labelled Corralejo as THE place for naturists to stay on Fuerteventura.
If you should contact Infiniti please mention that your read about them first on The Naturist Holiday Guide.
Perhaps you could send us a testimonial as well!
For further information regarding prices and availability please visit the Infiniti website.
---
UPDATE
FOR SALE

INFINITI IN CORRALEJO, FUERTEVENTURA

www.fuerteventurasunclub.co.uk
 
A rare opportunity to purchase one of Europe's top naturist holiday complexes.

Due to one of the two couples who own Infiniti now being well past retirement age and not in the best of health, this successful and profitable enterprise, which has a prestigious 3 star rating and is licenced for 33 beds,
is reluctantly being offered for sale.

For more details please contact us at members@fuerteventurasunclub.co.uk


---
Please subscribe to our newsletter Naturist Times. It tells you regularly about updates to our website plus other interesting naturist bits and pieces.