Fig Leaf Villas
Naturist Tranquility on
Mainland Greece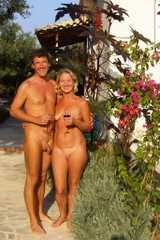 Fig Leaf Villas is a wonderful naturist holiday centre in Greece. There are three villas and a shared swimming pool 10m x 5m, plus wonderful sea and mountain views. The villas are 1.5 kms from the sea, and about 5 minutes drive to the nearest shop.
The owners are Cliff and Quee Hobbs who have been members of BN for many years now. In 2008 they moved to a hotter country so that they could spend more time naked comfortably than in the UK!
They chose the Peloponnese in Greece because they knew they would be able to keep a yacht nearby at the marina in Kalamata and that it was a stunning and unspoilt area of Greece.
The Peloponnese has miles of empty sandy beaches, lush wooded areas, waterfalls and lakes, mountains, charming Greek fishing villages and mountain villages.
Time seems to stand still and the goats and sheep are still herded around the olive groves every day foraging for what they can get.
You will hear them go past the villas sometimes, a strange whispering rustle of unshod hooves going down the lane and munching on the bushes.
The area is known as Greece as it was 20 years ago! There are also many ancient sites- more on the Peloponnese than anywhere else in Greece (including Olympia of course).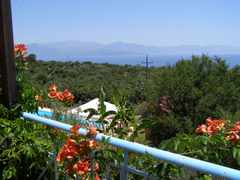 At Fig Leaf Villas there are three villas, the largest Villa Elya, is 60 sq.m. and will sleep up to 4, then there is Villa Seeka, 40 sq.m. and sleeps 2 to 3 and finally Villa Dafni, 30sq.m. that sleeps 2.
Villas Elya and Dafni are side-by-side but private and Villa Seeka is separate and in its own garden. They have a wonderful communal pool area with a wide sunbathing terrace, a barbecue and eating area and a bar which also serves delicious home-cooked food.
There is also a Boules area for the more energetic guests!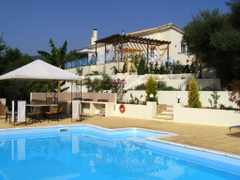 The largest villa, Villa Elya has a double bedroom and a bathroom with shower over.
The living area comprises a spacious sitting area with corner fireplace and a well-equipped kitchen and dining area. There is a sofa-bed in the sitting area which converts to two single beds or one double.
French windows will lead you onto the veranda The whole room has views of the sea and mountains beyond. Outside there is a wonderful veranda that wraps round 2 sides of the house, facing South and West and has dining furniture and comfortable furniture for up to 4 people.
Villa Dafni is the smallest villa and has a large kitchen/dining room with sea view, a few steps up lead to a hall with doors to the shower room and large bedroom with twin beds or large double. There is ample clothes storage and also soft seating for indoor relaxation. 
Outside there is a large veranda covered with vines, jasmine and passion flowers on two sides of the villa with breathtaking views of the sea and mountains beyond. There is also a sunny seating area in the garden outside this villa.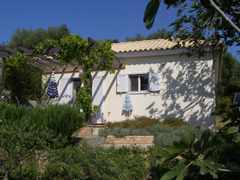 Villa Seeka has one bedroom, twin or double, a shower room and a living room with a small sofa-bed, suitable for one adult.
There is a good sized, well supplied, kitchen area and two outdoor verandas, one with sea and mountain views, and the other a private cosy courtyard area.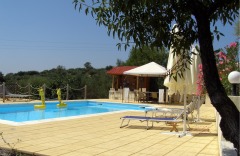 Part of the experience of staying at Fig Leaf Villas is the wonderful Greek welcome meal put on by Quee and Cliff by the pool on the night of your arrival.
This has proved extremely popular with their guests and a great relief just to arrive and be dined and wined without having to go shopping or go out to find a tavern.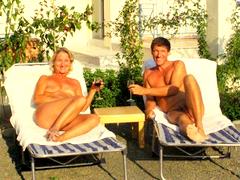 It is also a great opportunity for you to meet your hosts and ask any questions about the area and to meet any other guests staying in the other villa.

They also provide you with a very generous welcome pack which includes breakfast for your first morning.   

Another very popular facility that they provide is sailing days on their wonderful Yacht, a Gib'sea 43. These sailing trips are open to anyone from first-timers to experienced sailors.
The boat trips are available from 1 day on board up to three days and two nights on board or a separate 1 week cruise.
>
'The cost for this fantastic experience is just €60 for a day and an extra
€25 for the night for residents. For non-residents the cost is €70 for a day and an extra €40 for an overnight stay.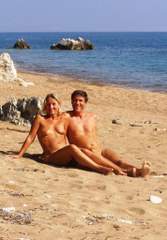 Naturism is practiced everywhere while you are in the grounds of Fig Leaf Villas.
There are no official naturist beaches in the area, but it's not necessary locally because most of the beaches nearby are very quiet, just a short walk from the beach entrance will take you to an area of the beach where you will feel completely comfortable to sunbathe and swim naked.
There are also several beaches where you are likely to come across other naturists. You are guaranteed a wonderful welcome and a memorable holiday at Fig Leaf Villas.
Should you stay with Cliff and Quee please tell them that you heard about them first on the Naturist Holiday Guide!
For full details of the villas and the area please visit Fig Leaf Villas or call at any time on 00447889840040 to speak to Quee.
If you should contact Fig Leaf Villas please mention that you read about them first on The Naturist Holiday Guide. 
---
Please subscribe to our newsletter Naturist Times. It tells you regularly about updates to our website plus other interesting naturist bits and pieces.