Naturist Times, 26 June 2010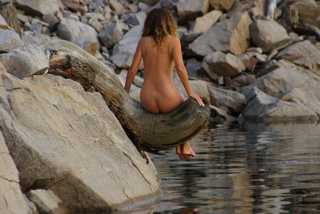 Naturist Times brings you news of updates to our website and other naturist 'bits and pieces'.
If you like this newsletter, please do a friend and us a big favour by sending it on.
If a friend did forward this to you, please subscribe by visiting www.naturist-holiday-guide.com


---
We're not Complaining
That it's Too Hot!
The reason that we mention the weather is that we have just checked the Meteo and the weather at Bordeaux for the next week is going to be in the high twenties, early thirties.

It was also a great week-end weatherwise! We went down to the Bordeaux area to book a place for the penultimate day of the Tour de France which takes place this year on the Medoc Peninsular on Saturday 24th July.

Our grandson Harry will be with us and it will be the third time he has seen the 'Tour'. If you are in the area it is well worth the trouble to pack a picnic and a few beers and get a place on the roadside!



---
Eagle Peak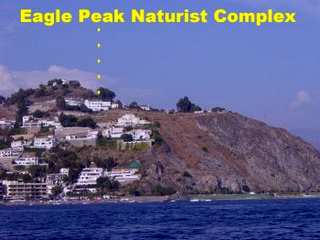 For an idylic setting and naturist escape, look no further than Eagle Peak in Southern Spain.

Situated overlooking the beautiful sub tropical coastline, this is a small complex of 6 luxury apartments and an adjoining villa.

Owners, Peter and Liz, have a wonderful attitude of 'keeping it simple' and, as such, have a naturism optional policy.

In other words, if you are both new to naturism and this is your "first time", or maybe one of you prefers to keep a costume on, then Eagle Peak is an ideal environment to begin your naturist life. You can be totally at ease there is no pressure to conform, its up to you.


---
Calvero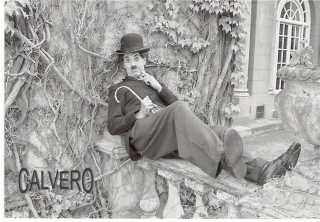 You may know the name "Calvero" from the character Charlie Chaplin played in his film Limelight.

It is also the stage name of Frank Terry, one of the world's leading Charlie Chaplin impersonators.

Frank's list of achievements is far too long to mention on this page but include appearing with the Ken Dodd Laughter Show for eleven years, television appearances on all the major TV channels, many circus performances and ice shows, and cabaret acts at many of the leading five star hotels in London.

He also performed at Blackthorn's Naturist Club in 2008 and is performing there again on August 1st this year during their family weekend.

If you own a hotel or theatre, are chairman of a club, or perhaps organising a gala or private party, Calvero can help you! He is capable of entertaining adults and children alike.


---
Property for sale, Corfu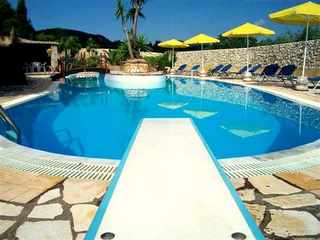 If you are considering buying a property in Corfu then this is an opportunity not to be missed!

This beautiful villa is located in a unique position, nestling on its own hillside surrounded by the beautiful Corfu countryside.

The villa and the separate guest house, which is currently being used as a naturist style holiday resort, sit proudly at the high point of the grounds looking down over the traditionally stepped gardens.

The grounds, totalling 5000 square metres, are typical of Greece, with fruit trees, olives, oaks, and tropical palms, yukka's and many other plants, all of which provide numerous colours and scented aromas at different times of the year.


---
Properties for sale in France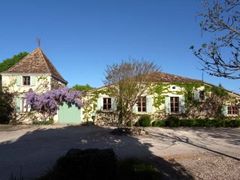 If you are thinking of buying a property in France, and you are naturist, then finding a suitable property can prove quite a problem. We are speaking from experience!

In our search, we looked at thirty different properties, and the property we bought, and still live at, was property number twenty three.

This was because, despite telling Estate Agents we did not want to be overlooked, short of telling them that we were naturist (which isn't always easy in French) they did not really appreciate the type of property we were looking for.

Find out how we are going to be able to help you to buy your property in France.


---
Brittany Ferries

If you are driving to the continent this summer you may be sailing with Brittany Ferries.

You will probably have already booked your ferry. If not, it would be a good idea to book it fairly soon.

The reason we say this is that we recently enquired about a foot passenger crossing and were told that we ought to book it quickly as ferries were getting pretty full.


---
Where Are You Going This Summer?
We would love to hear from you to find out what holidays you have planned for this summer.

Please let us know if you visit somewhere that we have not mentioned on our website. Also, we would really appreciate testimonials for places that are mentioned!


---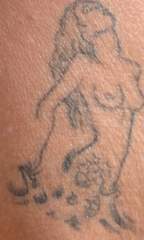 Thank you, again, to everyone who contacts us! We really appreciate your input towards our site.


Another newsletter will be following again soon!

Have a great summer and, don't forget! If you see this tattoo on a man's hip come and say hello. Hopefully, it will be me!

Keep in touch!

Jan and Rog


---