Calvero
The Ultimate Charlie Chaplin
Tribute Act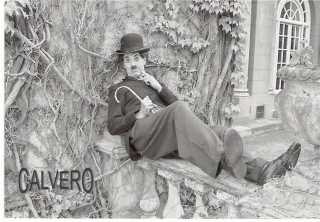 You may know the name "Calvero" from the character Charlie Chaplin played in his film Limelight.

It is also the stage name of Frank Terry, one of the world's leading Charlie Chaplin impersonators.
Frank has an amazing background in the entertainment industry, starting his career in showbiz as an ice skater in 1968 at the then famous American Forces ice caberet show "Casa Carioca" based in Garmish-Pa., Bavaria.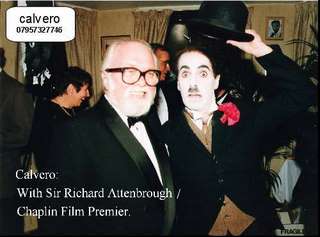 Prior to that Frank trained at Streatham ice rink in London reaching silver medal standard and British Junior Pair Skating Champion in 1966.

After performing in many shows with his wife, Jan, who he met in South Africa in 1972, they developed an acrobatic act on ice which they performed in Cottle & Austins touring ice circus.

This led to them performing an acrobatic/adagio act which took them throughout Europe.

Their skills in acrobatics have enabled them to develop their own acrobatic school in Derby called "Du Sol School of Acrobatics"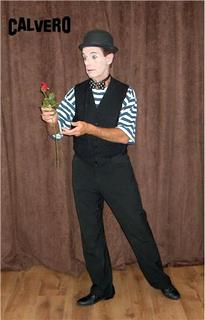 Frank's
list of achievements
is far too long to mention on this page but include appearing with the Ken Dodd Laughter Show for eleven years, television appearances on all the major TV channels, many circus performances and ice shows, and cabaret acts at many of the leading five star hotels in London.
He also performed at Blackthorn's Naturist Club in 2008 and is performing there again on August 1st this year during their family weekend.
Testimonial from Blackthorn's:
"It was great to have your company again and thanks so much for all your hard work - it was great fun for one and all.
You have the knack of getting the youngsters motivated - always a slow start and then they are away and enjoying themselves - thanks!"
Frank is capable of performing many functions in a wide variety of venues.

As well as being the leading Charlie Chaplin tribute act he can also perform comedy acrobatics, magic, juggling and balloon modelling.

He will even pose as a lifelike statue to surprise and amuse guests as they arrive at a function.

Why not have "Calvero" as a comedy waiter at your function?


The list of possibilities is endless.
If you own a hotel or theatre, are chairman of a club, or perhaps organising a gala or private party, Frank can help you! He is capable of entertaining adults and children alike.
For further details visit the website of "Calvero" or why not give Frank a ring on 07957327746

You can also email him at calvero@ntlworld.com.

Please could you mention that you read about "Calvero" first on The Naturist Holiday Guide.