Discover Wonderful Naturist Accommodation For Your
Holiday in Spain
Because the law in Spain now permits full nudity in many public places it is rapidly becoming one of the worlds most favoured holiday destinations for naturists.
With such a diverse topography and geography its hardly surprising that Spanish weather can vary enormously.
In the North where the weather systems come from the Atlantic ocean there is a temperate European climate with mild winters and warm summers.
Conversely the South of the country frequently experiences blisteringly hot summers and mild winters as weather moves from the North of Africa.
Naturist accommodation ranges from the larger campsites and resorts to the more private bed and breakfast, and guest houses.
If you have a property or naturist facility that you would like to appear on this page please contact us through the link at the bottom of the page.
---
Mainland Spain
Finca Natura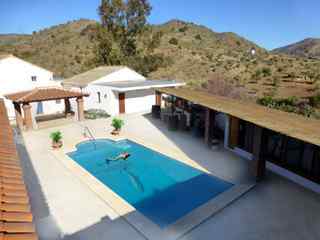 Picture seventy acres of secluded naturist heaven. You have Finca Natura, an adult only resort in Southern Spain about forty minutes from Malaga airport, close to the Moorish town of Alora.
Finca Natura accommodates six adults in three apartments. All rooms have direct access straight onto the pool and terrace areas.
As if staying at such an amazing location wasn't enough, there is a bonus. Your holiday is completely inclusive of all meals and drinks ...you cannot help but to totally relax ...it is as simple as that!
Visit the Finca Natura website
---
Eagle Peak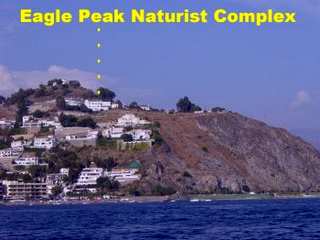 For an idylic setting and naturist escape, look no further than Eagle Peak in Southern Spain.

Situated overlooking the beautiful sub tropical coastline, this is a small complex of 6 luxury apartments and an adjoining villa.

Owners, Peter and Liz, have a wonderful attitude of 'keeping it simple' and, as such, have a naturism optional policy.

In other words, if you are both new to naturism and this is your "first time", or maybe one of you prefers to keep a costume on, then Eagle Peak is an ideal environment to begin your naturist life. You can be totally at ease there is no pressure to conform, its up to you.

                           Find out more about Eagle Peak
---
Greenwood Villa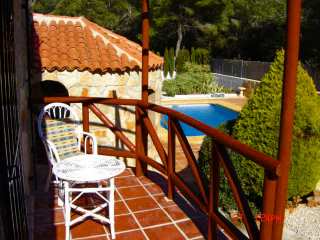 You will find 'Greenwood Villa' tucked away in the pine scented tranquility of the beautiful coastal Montgo National Park near Javea in the south of Spain.
'Greenwood Villa' is a wonderful naturist guest house and spa which, because of its privacy and location, is a naturists paradise.
Situated on the peninsular overlooking Jávea Port there is a choice of b&b, half or full board.
Find out more about Greenwood Villa

---
Vera Natura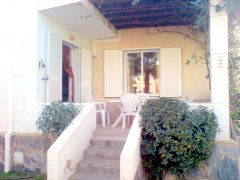 Fancy a holiday in Vera Natura? This 2 bedroomed apartment has direct access to the naturist Vera Playa beach as well as an impressive terrace with garden furniture. It also has a spacious, air-conditioned kitchen/diner/sitting room.
Click here for more details of Vera Natura

---
Alicante Nudists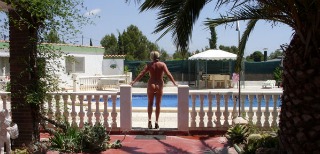 The Alicante Nudists adults only location is ideally situated 15mins north of Alicante airport, between the town of "San Vincente" and the village of "Agost".
Maggie and Ian welcome all adults to their wonderful bed and breakfast villa and cabins, which are set in a beautifully private setting in the lovely Costa Blanca area of Spain.
Accommodation at Alicante Nudists is on a bed and breakfast basis but, as you will see from the guests comments on their page, Maggie's evening meals are thoroughly recommended!
Self catering is also possible in the villa. Transport with a driver is also available to enable you to sample the excellent local restaurants so, all options are covered for catering!
You can certainly go for that all over tan here. It is so private that you can be naked for 24 hours a day!
Visit the Alicante Nudists website
---
Costa Natura, Apartment 169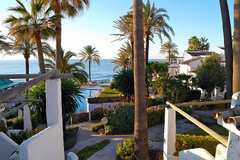 Costa-Natura 169 is a wonderful one double bedroom apartment in Costa-Natura, Spain's oldest Naturist resort.
The 30m2 terrace with sea view has direct access to the 500m long naturist beach.
Fully renovated in 2011; the interior is modern Scandinavian style and includes under floor heating making it attractive in all seasons.
Find out more about Costa Natura Apartment 169
---
Casa Cruz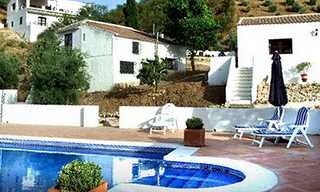 The owners of Casa Cruz in Andalucia have, during the last few years, traditionally renovated the Cortijo And Casita to a very high standard and transformed them into ideal accommodation for a naturist holiday.
Casa Cruz is set in private grounds with a swimming pool and features a Cortijo, which can accommodate up to six people in three bedrooms, and a separate Casita that has one double bedroom.
The villas can be rented individually or together to accommodate a party of eight.
Naturist bookings are for groups of eight only which is ideal for a Sun Club holiday or a group of naturist friends.

Visit the Casa Cruz website for more information.
---
Casa Rio Vera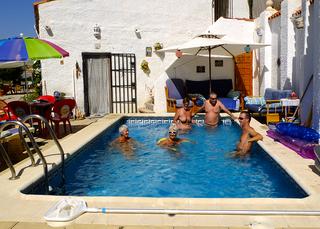 As far as naturist holidays go, Casa Rio Vera offers you the best of both worlds.
If the thought of walking naked for miles in the surrounding Spanish hills and mountains appeals to you, then this is the place for you.

Perhaps you would like to spend a day on the naturist Vera Playa beach! This is only about a five minute drive away.
Set in two and a half acres of tranquil Spanish countryside, the grounds and surrounding mountains offer you a chance to unwind and explore in in true naturist style.
Visit the Casa Rio Vera website for more information
---
The Canaries
Infiniti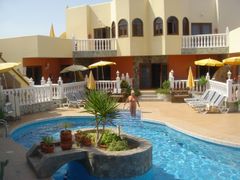 Infiniti was designed with naturists in mind.
Situated in Corralejo on Fuerteventura, there are three villas down one side of Infiniti and the eight apartments which make up the rest of the horseshoe shaped buildings.
These, together with the sunken pool, give seclusion, shelter and privacy important for naturists.
---
Don Luis Apartments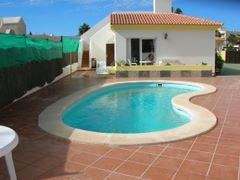 The Don Luis Apartments can be found on the wonderful, naturist friendly island of Fuerteventura in the Canaries.
These one bedroom bungalows, which can be rented through Lazydays Holidays, are located in the town of Corralejo which is situated on the north east of the island.
                      Find out more about Don Luis Apartments
---
Sunseekers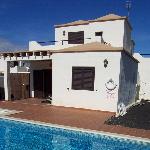 Sunseekers is an independent holiday company dedicated to providing a high standard of Fuerteventura villas and apartments with quality service at competitive prices.
Add to this the fact that Sunseekers pride themselves on having first hand experience and a good insight of their resorts in Fuerteventura, you have the combination of high class naturist friendly accommodation and excellent local knowledge.
Fuerteventura is a very 'naturist friendly' island. In fact, in a recent survey for 'Bare Beaches', Fuerteventura was voted the world's best naturist island.
Find out more about Sunseekers
---
Advertise With Us
Do you have a property you would like to appear on our site? If so, could you just send us some brief details in the form below and we will get back to you!

---
Please subscribe to our newsletter Naturist Times. It tells you regularly about updates to our website plus other interesting naturist bits and pieces.


Return from Spain to Naturist Holiday Guide home page