Hello


Naturist Times, 6 June 2015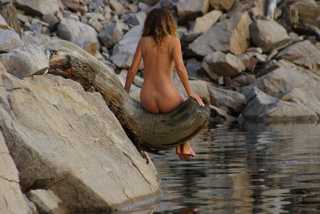 Naturist Times brings you news of updates to our website and other naturist 'bits and pieces'.
If you like this newsletter, please do a friend and us a big favour by sending it on.
If a friend did forward this to you, please subscribe by visiting www.naturist-holiday-guide.com


---
CONGRATULATIONS!
Congratulations are due this time to two of the many naturist resorts, campsites and accommodations that do such a wonderful job of providing great holidays for naturists.

Also in this newsletter we want to tell you about a new naturist opportunity in France, an update on a naturist hotel on Crete, a property that may interest you as an income potential, and an ever successful naturist event coming up in beautiful Cornwall.
---
CREUSE NATURE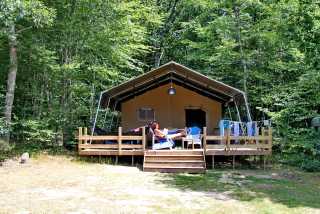 Creuse Nature is a naturist campsite in the Limousin region of central France.

Els and Reinier are celebrating 20 years of being at Creuse Nature which, in fact, has been a naturist campsite for 35 years.

They are planning to celebrate this with some parties and promotions. These will be in addition to the activities already arranged, many based around nature and music. Children are very well catered for.

There is a large variety of lovely pitches, a total of one hundred in all. A choice of in the woods or by the lake, in the sun or in the shade.

Visit the Creuse Nature website via our page to check out any 'Special Offers'!

---
EURONAT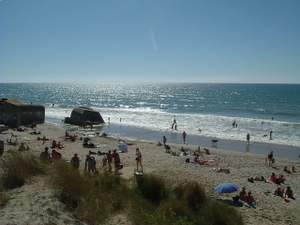 Euronat is situated in the South West of France approximately one hour's drive from Bordeaux, just below the river Gironde.

Euronat is celebrating it's 40th anniversary this year and there are plenty of celebrations planned here as well.

These will be as well as the many leisure and sporting activities available, around 40 altogether, catering for everyone.

Take your pick from various arts and crafts, excursions, cultural activities, games and many different sports such as archery, volleyball, badminton, tennis, jogging etc.

They are running accommodation and Thalassotherapy treatment offers.

Find out what is going on through our Euronat page.
---
CHATEAU RIEUTORT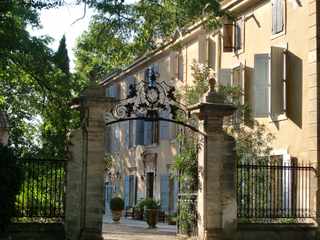 The beautiful Chateau Rieutort is situated in the Languedoc-Roussillon region of France on the banks of the river Hérault.

Chateau Rieutort is not a naturist resort on daily basis. However, the Chateau has two swimming pools and the owners decided to turn one of the pools into a naturist area.

Interestingly, this proved to be the most popular. As a result, the owners are very happy to welcome naturists every day from April 1st until the first week end of January when the only fully naked zone will be the naturist pool.

The great news for naturists is that the whole chateau will be open exclusively for naturists during the week of Saturday 22nd of August until Friday 28th August. Find out more!
---
VRITOMARTIS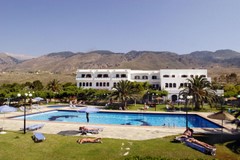 The family run hotel and bungalows of Vritomartis offer quality naturist holidays and are located near the village of Hora Sfakion on the south coast of Crete. This region is one of the most spectacular and unspoiled coastal areas of this beautiful island.

During the past year Vritomartis have carried out renovations in areas such as the pool bar, restaurant, and reception area. Not only that, the buffets have been improved to ensure a wonderful naturist holiday of excellent accommodation and food.

Read more about Vritomartis.
---
LEUCATE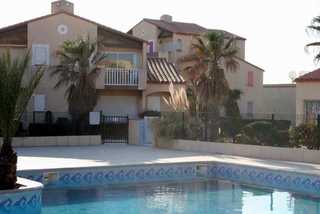 If you are looking to buy a naturist property in which to spend holidays but also with income potential, this may be what you have been looking for.

There is such a property in the naturist village of Leucate in the South of France.

This apartment can sleep four adults and is in the much sought after Oasis village.

Even better news is that the price has been reduced from €115000 down to €97500 so there will be a lot of interest.
---
NUDEFEST2015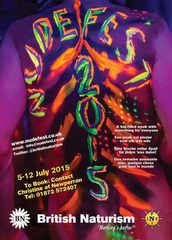 British Naturism is now in the process of organising Nudefest2015.

This follows the tremendous successes of Nudefest over the past eight years and is to take place, this year for a whole week, between Sunday 5th July through to Sunday 12th July!

The event is to be held for the ninth year running at Newperran Holiday Park near Perranporth in beautiful Cornwall.

British Naturism have organised the usual activity-packed long week amongst which is the band Sunset, a Barn Dance and the comedian Lee Randall (no relation)!
---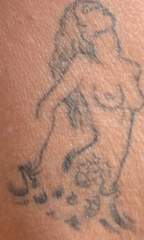 If you should contact any of the many wonderful naturist accommodations that appear on our site we would really appreciate it if you mentioned our names. Many thanks!

We love hearing from you and thank you very much to all our fellow naturists who contact us. We will always try to reply to you.

If you see a man with this tattoo on his hip, come and say hi!

Have a great Summer!

Please keep in touch!

Rog and Jan