Alicante Nudists Spain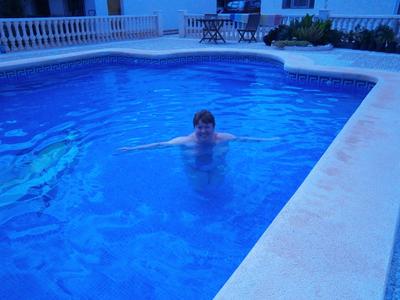 cooling off!!
Just returned home after a week with Maggie and Ian at Alicante Nudists.

It´s my first naturist holiday abroad although I have been a naturist since 1993. I chose just one week to see what it was like - would I like the place and the people who run it??? Oh boy did I?? Was wishing I had booked at least 2 weeks with Maggie and Ian.

They are very helpful and friendly to stay with. I had one of the cabins in the garden - spacious and comfortable with a short walk across to my own bathroom. Airconditioning when it got too hot - not long before the cabin was cool and at a good temperature to sleep well.

I asked Maggie if she would provide me with both lunch and dinner since I don't drive and could therefore not get around to restaurants so easily. Maggie agreed graciously and she makes delicious lunches and dinners - you never feel hungry there!!

Talk about hospitable and kind. you feel like you have come from home to home - I met other friendly guests who have regularly visited these past five years. I think I will be following their example.

Thanks so much for a wonderful week - see you again all being well in September/October.
Eileen S. (North east - England)
Join in and write your own page! It's easy to do. How? Simply click here to return to Favourite Naturist Accommodation.
Please subscribe to our newsletter Naturist Times. It tells you regularly about updates to our website plus other interesting naturist bits and pieces.