Ecotara Retreat
A Naturist Celebration
on Gran Canaria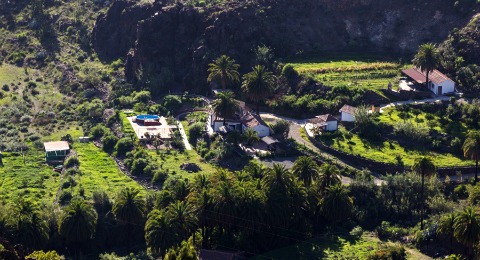 Fantastic news! Ecotara Retreat on Gran Canaria is opening its doors to naturists for the first time this summer.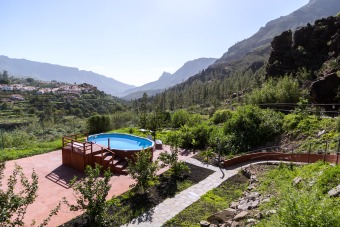 This is just so exciting because Ecotara's philosophy of life is ideally suited to naturism!

They have created a wonderfully sustainable and peaceful setting, perfect for resting, restoration and well-being.

The retreat is located in a stunning location in the southern part of the island of Gran Canaria.
It is situated in a 25,000 m2 of land with fruit trees, a vegetable garden,  swimming pool, jacuzzi and lots of spaces for deep relaxation and reconnection with nature.

Ecotara will be open exclusively for naturists every day from 26th of June until the 1st of October when you can stay there on a self-catering basis, try their organic vegetables and join free yoga classes whenever they are available.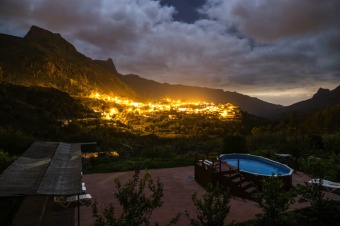 All this and being able to walk naked around the grounds.

They are also offering a naturist Healthy Living retreat week from the 12th to the 18th of August, and a naturist Family retreat week from the 21st to the 27th of August.

The accommodation consists of four beautifully renovated, traditional white washed & blue houses with terracotta roof tiles. There is the Main house, the Studio and two bungalows.

The houses are built on wide terraces with sufficient space in front of them for relaxing and enjoying the views.

Main House has an indoor lounge with a see-through wall with a beautiful view to the valley. Further into the house is a fully equipped kitchen and dining area. Joining this are four bedrooms.
One has an en suite and the other three share a fancy bathroom with a tub.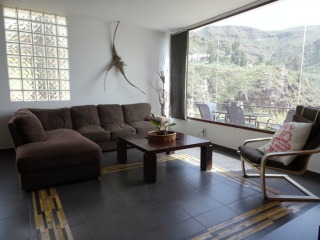 Located on the main terrace attached to the Main House, the Happiness Studio has stunning views to Fataga village and mountain.
This beautifully designed delux studio has king size beds, en suite shower facilities, a kitchen and dinner table, console table and TV.

The two bungalows located in the top terrace are facing the organic vegetable garden.
They have a peaceful outdoor roofed sitting area to enjoy the view of the surrounding mountains.
Each bungalow is fully equipped with its own living room and kitchen, separate bedroom and separate shower facilities. Each has a standard double bed, dinner table, sofa, air conditioner, WIFI, towels and hairdryer.

Other than during retreats, accommodation is on a self catering basis. You can either cook in the well equipped kitchens in the accommodation or there are restaurants in the nearby village of Fataga which is ten minutes walk away.
Also, once a week you can join what they call a family dinner.
Here, each guest cooks a meal and everyone enjoys a dinner together around the orange trees, next to the fire under the well known starry skies of the Canary Islands.

There is an organic garden where they grow their own food, from seeds to plants to tasty vegetables.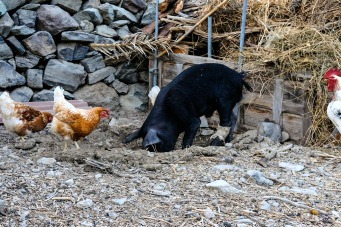 They try to have a good variety of herbs, vegetables, and roots. They also have fruit trees, mostly orange, lemon and olive trees.

Although the produce is not for sale, if there is an excess of food they give it to guests, friends, family and of course they feed their animals.

These animals are on their little farm where they have have nine beautiful chickens, three roosters, six sheeps and a naughty black canary pig.

During your stay you are also welcome to join free yoga classes whenever they are available.

It is very unlikely that you would want to step foot away from Ecotara. However, there is a beach just 35 minutes drive away and it could be possible to arrange transport.
If you should contact Ecotara please could you mention that you read about it on The Naturist Holiday Guide.
Please click here for more information on beautiful Ecotara!
Return from here to Naturist Holiday Guide home page
---
Please subscribe to our newsletter Naturist Times. It tells you regularly about updates to our website plus other interesting naturist bits and pieces.