FINCA JOHANNA
NATURIST FREEDOM
IN ANDALUCIA

The tranquil location of Finca Johanna is the perfect setting for a wonderfully peaceful naturist holiday.

Situated in the stunning Andalucian countryside, between mountain and sea, Finca Johanna offers you the opportunity to shed your clothes and experience the naturist holiday you deserve.

The naturist guest house has five themed bedrooms to take you romantically back in time. All of them have a private bathroom.

Maybe you will choose the Room of the Marvels with its bamboo canopy bed and its hidden treasures.

For the romantically inclined, the Arabic Nights room with its beautiful
bed with lace curtains and the decor of an Arabian palace.
If you are looking for a completely different experience, why not stay in the Bedouin tent.
Located in the shade in the grounds of the finca, this big "bell" tent is furnished in the style of desert nomads.

This is no ordinary camping as it is just as comfortable as the bedrooms. Imagine soft lighting, tables and chairs, cushions and cozy corners. You will feel very pampered.

Whichever type of accommodation you choose, one thing that you can be sure of is that you will not go hungry or thirsty!
Johanna and Laurent pick fresh seasonal products from the garden as often as possible, and the meals are amazing.
For the breakfast buffet you can choose from homemade bread and brioche, fresh fruits, homemade yogurt, local ham and cheese, and homemade jam.

At any time, at the bar you will find a small catering to satisfy small
and big appetites. Everything homemade, of course!
For the evening, twice a week a tasty Mediterranean cuisine. Barbecue meat or fish and seafood… Discover the delicious aioli, the appetizing buffet of mezzes …
 And of course, the unmissable paella…

Last, and certainly not least, sample a cocktail sundowner followed by the wonderful wines of France and Spain with your meal.

Should you decide to venture away from Finca Johanna for the day, a picnic can be arranged!

There are so many places to visit to soak up the traditional Andalucian atmosphere. You may do so by car or, if you wish to be a little more active, you can explore the surrounding country lanes on foot or by bike.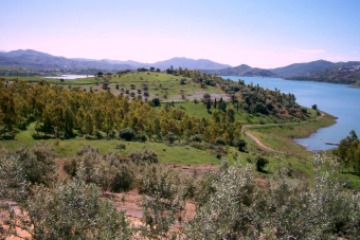 A path takes you to Mijas, a magnificent typical white village with its traditional donkey taxis.
A little further you can visit the historical town of Antequera and the great Moorish fortress.  To get there you will pass by the beautiful Torcal Park.

To the west is the lovely town of Ronda with wonderful vantage points and a huge bridge.
However, you may decide that you just want to 'chill out' and stay at Finca Johanna for the whole of your holiday.
If so, you can spend restful days lying by the pool and jacuzzi. The bar and restaurant are open non-stop.
Play darts, petanque or big wooden games like Mölkky, a Finnish game of skill.

Materials are provided for artists and you can also relax in the lounge where you will find a bookcase, games and toys.

Johanna and Laurent would also welcome you to participate in the Finca Johanna daily life ! You can pick olives or almonds, vegetables from the organic vegetable garden and prepare jams and candied fruits that you can take as a souvenir.

Johanna also organises dance and aqua-aerobic activities. If you really want a treat you can arrange to have a massage.

There are activities for children such as swings and games, and it is possible for them to take care of animals.

However you decide to spend your naturist holiday you can be assured that Johanna and Laurent will make it a holiday to remember.
It is certainly worth noting that Finca Johanna has a five star rating on Trip Advisor!

If you should contact Johanna and Laurent please could you mention that you read about them on The Naturist Holiday Guide.
Visit the Finca Johanna website.
Return to the Naturist Holiday Guide home page.

Please subscribe to our newsletter Naturist Times. It tells you regularly about updates to our website plus other interesting naturist bits and pieces.