BE A NATURIST! ENJOY A HEALTHY LIFESTYLE!
Yes it's true! Naturism is healthy! Naturists know that they lead a healthy lifestyle, both physical and mental. They understand and experience the sense of well-being that comes with complete contact with the natural elements - the sun, wind and water. Naturists know how it feels to be invigorated, stress-free and totally relaxed.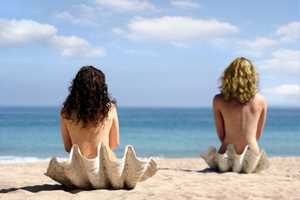 Why is being nude so good for your health?
For a start going naked is fun! After all we were all born nudists! It is relaxing and stress-relieving which is healthy for both the body and mind. As you shed your clothes you unwind and get back to basics.
We all love to feel the warmth of the sun on our bodies - it makes us feel happier and more relaxed. Nudity allows sunlight to get to body areas normally neglected, and now there is some scientific evidence that moderate exposure to the sun is good for you, providing, of course, you use suitable sunscreen protection. It helps increase vitamin D intake and helps to improve many skin conditions, such as acne, whilst discouraging fungal and bacterial infections.
For years, the health insurance organization of Sweden has sent patients to Dalmatia, prescribing nude sunbathing and relaxation in the mild waters of the Adriatic for skin and other illnesses.
The more aware we are of our bodies, the more likely we are to keep a healthy lifestyle.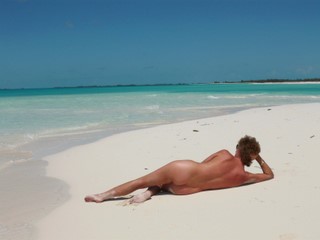 Naturism also helps to increase confidence and self esteem. When you take off your clothes you tend to become more open and accept yourself for who you are and accept others for who they are rather than what they might be wearing.
In naturist surroundings nobody cares what shape and size you are, what they are really looking at is you and your personality shining through.
This really struck home to us when we took a friend who was recovering from a mastectomy to a naturist beach. To her surprise, people were chatting to her normally and taking absolutely no notice of her scarring. This was a very liberating experience for her and did wonders for her confidence!
It feels so healthy to be surrounded by people who are not obsessed with body type, colour or size and you feel like you can truly relax.
The philosophy of naturism has a holistic approach to nutrition, physical activity, mental health, and social interaction, and it encourages the acceptance of all people, no matter who they are or what they look like.
Now isn't that an incredible way to live and why being nude is so good for your health!

---
Please subscribe to our newsletter Naturist Times. It tells you regularly about updates to our website plus other interesting naturist bits and pieces.