What do Naturists DO in Winter?
Do naturists hide away in Winter? Of course not! If you thought that nudists only emerged during the long hot days of summer to soak up the sun, then think again!
Although it may seem that the cold weather is not conducive to the pursuit of naturist activities, there are plenty of opportunities to sample this natural lifestyle in winter! And planning for your next hot and sunny naturist holiday is not the only one!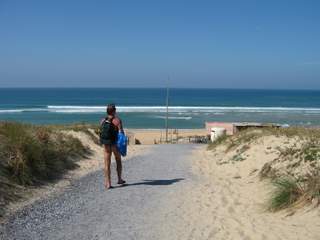 The obvious solution would be to head off to the winter sun in Australia, New Zealand, the Caribbean, or closer to home the Canary Islands......but why not be a little more adventurous!
How about joining the "Icebears" in Oslo for some ice swimming for example? These very brave men and women, regardless of the weather and temperature, just love to swim in the Oslofjord!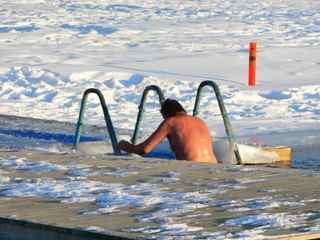 Or do you fancy cross-country skiing in the nude in Austria? They have a long season at Obertraun and regulars to this resort recommend skiing the 4 kilometre loop before March..... to avoid getting sunburnt on your 'exposed bits'! There is a winter naturist resort at Ramsau where you can cross-country or alpine ski naked, as well as sunbathe on the terrace if you are not feeling quite so active. The hotel also has a naturist swimming pool and sauna - what better way to finish off after a hard days skiing!
Czech Republic also has an all year round Naturist Resort at Mlecna Drha, which has an arrangement with a small, local ski school. The owners don't mind people stripping off to ski nude, but be warned, most of the skiers will be textile!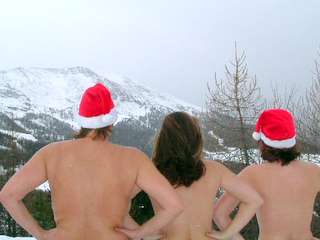 So getting naked in the snow is not only fun, but very possible ....but make sure there is a sauna or a lovely log fire very close by!
For those of you that prefer indoor warmth (and who can blame you!) here are some alternatives.
Just because the summer is over and the winter months are drawing in it doesn't mean that you want to or have to don your swimming costume again! Most naturist clubs and centres throughout Europe (and in fact the world) organise regular winter swim evenings at indoor venues, often including sports facilities and saunas. Whether you are single, a couple or a family, this is a fantastic way to meet other naturists and to make new friends.
Or perhaps join a naturist dining club. Groups of people meet up either in their own homes or at naturist friendly restaurants to eat in the nude together. Normally hot soup is banned from the menu!
So, being a naturist isn't just about the summer, beaches and soaking up the sunshine (although we think this takes a lot of beating!) but is an all year round lifestyle - winter included!