Le Colombier - Naturist Peace in the Countryside of France
We stayed at Le Colombier in 2003 for two days. The only photograph we have is of Jan stood by the tent. We do know that we thoroughly enjoyed our stay there and that children were well entertained including pony and cart rides to collect firewood.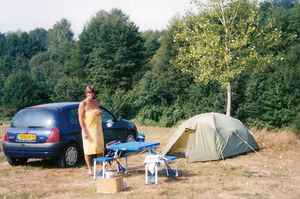 However, we have this report thanks to 'Seaside Naturist' which gives a more detailed account of the campsite.


---
Le Colombier, Le Vendee, France.
We drove with a caravan in tow from Caen in Normandy. The roads were excellent, quiet and toll free apart from the last 50 - 70 miles. This cost is not high, E5.60 for a car, so not worth trying to avoid. We had only had a caravan just over a year, when we went in 2005, and our concerns re towing abroad were not necessary. It was far easier than driving in the UK! St Malo is nearer, so it should be around 3 hrs from there (180miles, 163 on motorway). The ring roads at Rennes and Nantes are not too bad, but worth getting a good map before you leave so you can work out your exit Junction Number.
The site is very nice and has a laid back family atmosphere. No commercial overtones and most visitors have been before, often many times. We went first week of July and it was the last week before the main season. (About 50% full) Campers are about 50% French families, often with dad away at work during the week, and 50% couples mostly from UK and Holland. The owners are Dutch and are very relaxed and friendly. They speak good English; as do the staff, who are Dutch students.
There are about 5 fields used for camping, 3 of which are well used. Good toilet blocks, shared by both sexes. (You may sometimes need your own toilet paper). There is a baker who visits every morning for an hour; he also sells a few common items and newspapers. Good Supermarket in St Hermine that you pass on the way.
There is a bar and this also serves food on the patio in the evenings, but you need to book by lunchtime each day. Prices are reasonable. Excellent and heated pool and also a Sauna, but sauna is only occasionally open.
There are some long and pleasant walks around the 85 acre site and woods, and there is a small lake in the woods that you can fish for carp in. They are fairly hard to catch, but I caught about 10 or 12 in three visits using sweetcorn as bait.
The Vendee is a lovely area of rolling countryside, not unlike the Cotswolds. (Sleepy villages and interesting towns) We never found time to get out to the coast, which is about 80mins drive. (We were distracted by 2 days to see Le Tour de France)
We did go to 'Green Venice'. This was very nice for a drive around and a boat trip, which is probably best with a guide.
Seaside Naturist 2005


---
Please subscribe to our newsletter Naturist Times. It tells you regularly about updates to our website plus other interesting naturist bits and pieces.
Return from Le Colombier to France Return from Le Colombier to Home Page