Naked in Namibia
Kenneth G Green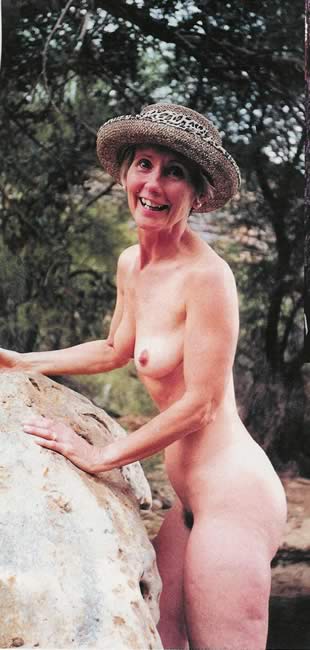 Why Namibia? My wife Polly was about to turn 50 and she wanted to do something different for her birthday. On my fiftieth I was given a glider flight, her sister a hot-air balloon flight, her brother-in-law a racing car drive. How do you top that? Polly fancied a holiday in the desert so when I found an internet web site that offered naturism in the desert of Namibia with the option of a hot-air balloon flight and champagne breakfast I knew that I had found the ultimate birthday present!
People ask, 'Where is Namibia?' It lies west of South Africa, and south of Angola. From Heathrow, a direct flight to Windhoek takes twelve hours, or travel via Johannesburg - which must rate as one of the best airports in the world. Windhoek is the capitol of Namibia but be prepared for a surprise on landing; the airport is twenty-five miles from the town. Apparently, adverse air-currents over the town forced the move into the outback. At least there are no traffic jams and no shortage of spotlessly clean new mini-bus taxis and porters.
Our tour guide & host, Leon Openshaw, who created Southern Skies Personal Safaris, met Polly and I at the airport and whisked us off in a specially adapted 4x4 minibus with trailer. We have special dietary needs and the trailer was already stocked with provisions exactly to our requirements.
All we had to do was sit back and enjoy the trip. A word of warning, the average speed across Namibia is about 30 to 40 mph because most roads are surfaced in gravel. Short trips in Britain become a full day's journey in Namibia. Then there are the high mountains, lots of them, some of which have to be crossed by road. Finally, the heat. You might remember a hot day in Britain, but the desert heat is fierce and dry. One's skin does a good impersonation of parchment, and lips crack with dryness. One soon discovers the importance of water. Our advice is to avoid alcohol, tea, and coffee for the first day, and to drink bottles of pure water until the body reaches a re-hydration balance. We travelled over the New Year period, which is the hottest season. March through to October is cooler but still hot compared with Britain.
Our host was thoughtful enough to give us an overnight break at the pretty Camp Nauchas, bungalow accommodation on the oldest farm in the south-western Namibia. Dinner was sumptuous and much appreciated, as was the refreshing shower. The next morning, after a hearty breakfast, we set off towards Tsauchab River Camp our naturist destination. On the map it seemed just a stones throw away, but it took a full days driving, passing over the Spreetshoogte heights before descending down thousands of feet into the desert plain surrounded by the Naukluft and Tsaris mountains. There is plenty of life here in the form of zebra, antelope, raptors, rodents, reptiles, insects, and spiders. The reason that none of these is obvious lies in the vast size of the landscape.
Namibia is three times the size of Britain with a population of less than 2 million. The road was long, rough, and dusty, but our host ensured that we had plenty of watering stops, including a lunch stop at a place called Solitaire where we were served the tastiest and biggest home-made apple pie I have ever seen.
Arrival at the camp was a complete surprise as it lay in a secluded gorge about three miles from the road and accessible only by 4x4's. The camp was called Fountains because of the Afrikaans word for the natural springs which turned the gorge into a green oasis complete with meandering stream which the farmer had dammed up to form a natural swimming pool. Our host instructed us to unwind, undress, and relax. We did just that, and didn't need to think of clothes for the next three days. Bliss!
The oasis was always cool, even in the midday heat - due to the cool water and due to the overhanging shade of the ancient Marula tree. Two items of clothing were essential: walking boots and a hat. The ground is either hot loose sand, or hard and stony, and the sun is always overhead. The boots enabled us to enjoy walking, while the hat prevented sunstroke, although to be truthful we sometimes cheated and wore a wet sarong draped across shoulders. This also worked in the vehicle, when we draped the damp material across our knees, and remained comfortably cool.
Temperatures averaged 40°C, although one day it reached 60°C. with the sand a blistering 80°C. Well, what do you expect from mad dogs and Englishmen? Yes, a crazy Englishman trying to climb a sand dune in sandals, at noon!
Night was sheer heaven with the Milky Way that lit up the night sky in a blaze of a billion stars. We also had a full moon on the first night enabling us to walk about in the desert after dark as if it was daylight. We also noticed an almost complete absence of mosquitoes so that one could wander around naked without being bitten. We slept naked too. The only disturbance at night came from birds regularly and noisily arguing.
One of the highlights of this camp was the naturist hike up the course of a deep ravine. Surrounded by steep rocky sides we were in an ancient world where only the bushmen of Namibia once roamed. In fact, one of their honey gathering sites could be seen high up the side of the ravine, with the original primitive ladder still wedged against the rocks so that they could reach the hive. Hiking naked in the tremendous heat was a revelation because although hot we never felt overheated for being naked meant that the skin could perspire freely and evaporate dry within seconds. Once you have experienced naked hiking in the desert, you will never again be satisfied with the textile version. After the hike, we were treated to a shower in the desert under a tree. The farmer had thoughtfully attached hot and cold running water with all mod cons to a tree complete with smooth stone trough to catch the run-off water. There is no shortage of water - it is underground and is easily pumped up with windmills into tanks. We were amazed at his ingenuity and enjoyed the shower all the more for it.
After three days of naked bliss we allowed ourselves to be dragged back into civilisation and stayed first at the luxurious Desert Homestead at Maltahöhe (famed for its healthy food and horse trails) and at Sossusvlei Lodge, a Moorish hotel with half-tented accommodation situated on the edge of the Namib desert, and home to massive red sand dunes. It was from here that we had the birthday hot-air balloon flight at 6 a.m. when the air was still a cool 31° C. We drifted on gentle air currents for an hour over the desert and the Sesriem gorge before landing for the champagne breakfast. There is only one word for this trip - unforgettable!
We took loads of photographs and they all survived the x-ray machines at airports. Some of the films were x-rayed four or five times. According to an airport official film is safe provided it is less than 700 ASA.
How did we avoid getting sun burnt? Common sense and some natural skin care. Firstly, we used Neways sun block cream because it is free of formaldehyde-chain chemicals. They can cause cancer. We also used their after sun care cream at night. During the day, any exposure was treated with a coating of FLP Aloe Vera Gel. During our walks we sprayed regularly with a dilute solution of Urtica Urens (Stinging Nettle) tincture, this can be obtained from any homeopathic or herbal pharmacy. Most importantly, we drank the local water, it's the sweetest most refreshing water in the world, and we needed lots of it!


---
Read about Ken and Polly's Naturist Health Retreat in Spain

Return from Namibia to Naturist Holiday Guide home page