Naturist Sailing
Around Tuscany.
Your Escape!


Imagine a wonderful naturist sailing holiday around the Tuscan Archipelago.
Escape from main stream life and visit quiet locations and wonderful protected bays to relax and enjoy the Islands for an idyllic holiday.

Stefano, of 'Grace Sailing' can provide this dream for you. He discovered the sea quite a few years ago and now sails 'Alessandra', a wonderfully kept Comet 12, and the boat that will host you!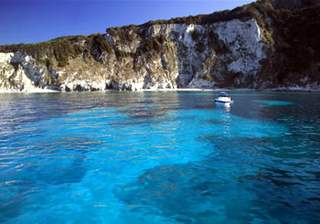 To allow real relaxation and a comfortable experience, the boat hosts only 4 guests at the time.

It is ideal for couples of all ages looking for a romantic get-away or a long deserved break.
Maybe you have naturist friends with whom you holiday.
What an adventure for a family with children (over six years old).
There are two very comfortable and large queen size cabins with two dedicated bathrooms. Inside, the whole boat height ranges between 1.90 and 2.10 meters, offering plenty of headroom for most people.

As well as the two double-bed cabins and the skipper's cabin you will find a spacious dinette and a great large kitchen. A newly renovated fridge allows all foods and wines to be kept constantly fresh.

Whilst on the subject of food, it is worth noting that Stefano, your skipper, is a great cook and wine lover.

The naturist sailing cruise includes full board from breakfast to dinner and Stefan will entertain you with his special gourmet dishes!

This can range from a selections of jams for breakfast with espresso, to sparkling Prosecco aperitif before dinner and grilled fresh fish you will catch while sailing.

You will certainly be treated to Stefano's favourite, "Spaghetti alla bottarga" usually spaghetti with grated dry tuna caviar, yet he changes it into a special garlic sauce with bread crumbs and pine nuts .... great with a glass of dry white wine.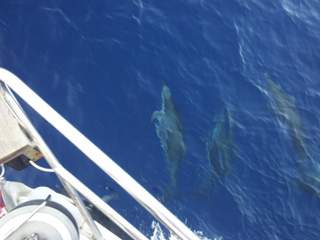 Amongst other favourites is "Friselle" (Dry sailor bread crusts dipped in clean sea water and topped with tomatoes, anchovies, capers and olive oil).
Outside the large Dodger will keep the breeze from the cockpit while a large Bimini creates a nice shaded area above the dining table!

Another great asset is that Alessandra is almost carbon free, thanks to solar panels.
There is also a small tender to explore the coast and reach wild beaches. This tender uses a great electric engine to minimize noise and pollution!
The Cruise
Cruises are available from June 1st to September 30th! You just have to contact Stefano and book your week!

The naturist sailing cruise starts on Monday morning. It is possible to fly in and sleep in the boat on Sunday Night and return to harbour on the next Saturday.
Stefano usually docks at Marina di Pisa. He can pick you up at PISA AIRPORT – very convenient location – all low cost airlines like Easyjet, Ryanair, Air Berlin fly there!
He can also organize other departure points in VIAREGGIO, LIVORNO or BASTIA (Corsica).

A typical route includes one full day of sailing to reach the Island of Capraia.
You will anchor in one of the Islands wild bays. After a refreshing swim you will enjoy one of Stefano's wonderful dinners whilst sipping a nice "Mirto" or "Grappa" from his collection of the finest wines from various Italian regions, which he keeps in the boat cellar!
The next day after a morning swim and nice breakfast you will sail to a new bay in Capraia Island where you can spend the whole day reading, snorkeling and exploring the coast by foot.

The following day you will cross the straits connecting Capraia and Elba where you will spend two days.
Elba has several beautiful beaches which have always been naturist.

Time is also spent visiting one of the harbour towns, Marciana Marina or Porto Ferraio with their selection of shops, Italian restaurants and their great hiking trails.

Find out more by visiting Stefano's Itinerary page.
These naturist sailing trips are getting booked up, so it is recommended that you contact Stefano to discuss, what would be, your dream holiday.

Visit this wonderful naturist sailing holiday web site!

If you should contact Stefano please could you mention that you read about Grace Sailing on The Naturist Holiday Guide.
Return from here to Naturist Holiday Guide home page

Please subscribe to our newsletter Naturist Times. It tells you regularly about updates to our website plus other interesting naturist bits and pieces.