Have You Had A Nude Wedding?
We have just had a strange request and hope you can help! Have you had, or been to, a nude wedding? If so 'Love It'- one of the UK's bestselling women's weekly magazines would like to hear from you or your friends!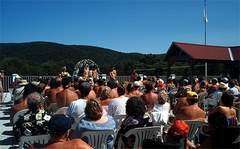 They are working on a light-hearted feature about people marrying in the nude. All that would be involved is a short telephone interview with you about your big day, and they would also need to publish photographs - which would be pixelated or blacked out in the appropriate areas. They would also read the piece back - word for word - before publication to ensure that everything is factually correct.
Then, as a thank you for your time, they would also pay £300 - which can be donated to charity if you so wish. They would also be able to publicise your club and publish your website address, if you would like.
'Love It' has worked with naturist clubs on a number of occasions and everyone involved has always been very pleased with the outcome. They have had a great deal of positive feedback from their readers.
The 'naturist' editor for 'Love It' is Kelly Ellis. There is quite a short deadline for this so if you are able to help Kelly she can be contacted on 0044 (0)207 198 3124 or email:- elliskelly@hotmail.com
Could you please mention that you heard about the article on Naturist Holiday Guide.
Many thanks!