Playing sports in the nude! Nothing is better!
Naturism and sports go hand in hand!
What better than to partake in physical activities without the restriction of clothing? Many sports are played to a high standard in naturist clubs around the world, but there are a few particular ones that are really associated with naturism.
Swimming must be the first to be considered! Nothing beats the sensation of moving water against bare skin! Swimming pools are so often the focal point of naturist clubs, resorts and campsites. Whether for proper swim training, just for cooling off after a day sunbathing or, of course, swimming galas. The INF hold an annual swimming gala where the best swimmers from all over the naturist world compete against each other.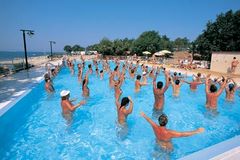 Many resorts and campsites are also located by the beach. Rog and I love to body surf in the Atlantic rollers, and there are always plenty of naturist surfers and body boarders in the sea!
Petanque, or boules, is the classic French sport and one that Rog and I are very familiar with! We have spent many a sunny afternoon in France involved in the intricacies and tactics of the game! It can be played almost anywhere as long as there is a reasonably level surface, however most naturist places have a dedicated court with a number of pistes. It may appear to be a slow and leisurely game, but there is more to it than meets the eye! However the pace does mean that beginners can pick it up easily and that all ages can play!
Volleyball really is a sport associated with naturism! Impromptu games are often seen on the beach and in fact most coast based resorts will have nets already set up on the beach! It is played in teams of up to six and as long as there is a net at the required height it can be played almost anywhere.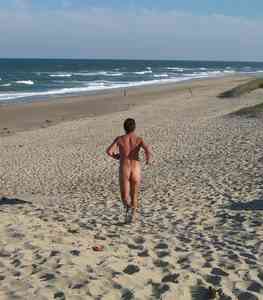 Running is a whole new adventure when experienced naked! Rog loves to run in the nude and many naturist resorts and campsites have running and fitness circuits. You can also partake in naturist fun runs and even marathons!
Miniten is very popular and exclusive to the naturist world. But what is miniten? Well, it is a very fast paced game which is played to the same rules as ordinary tennis. However the size of the court is much smaller and it is not played with a racket but with a double bladed wooden bat known as a "thug". This does take some getting used to! It can be played by all ages as it is a game based on skill and accuracy rather than athleticism and speed. However miniten matches can be very vigorous - it is surprising how far and fast a tennis ball can be hit by a thug!
Naturists tend to enjoy sports and other outdoor activities, such as hiking, biking, camping and canoeing, but more than anything it is the social interaction with other naturists that makes it that extra bit special!


---
Please subscribe to our newsletter Naturist Times. It tells you regularly about updates to our website plus other interesting naturist bits and pieces.