Fancy an Unusual Naturist Holiday with a Difference!
Tempted by an unusual naturist holiday? Looking for something different or more adventurous than usual that will leave you with a few stories to tell? Though some of your friends and colleagues will probably think taking a naturist holiday in itself is unusual and adventurous enough!
Here are a few ideas to get you thinking......
How about a naturist hiking holiday in South Africa?
Try Angel's View Hiking adventure which offers an eight-day, 120km (75 miles) hiking trail with steep ascents and rocky terrain. The trail traverses the rugged Naukluft mountains on the edge of the Namib desert. As one of the hikers, imagine encountering secluded gorges, sparkling mountain pools and breathtaking views. It may be possible to see antelope such as Kudu, Gemsbok (Oryx), Springbok and Klipspringer as well as experience one of the richest concentrations of bird life in Southern Namibia.
This mountain trail has earned itself the reputation of being one of Southern Africa's most demanding routes. So don't try this one unless you have a high degree of physical fitness!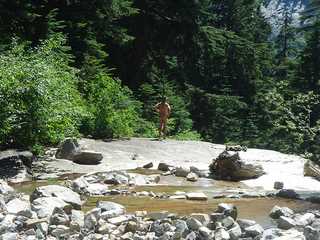 Join a touring naturist Bed and Breakfast bus in New Zealand!
This touring company offers a completely unique style of touring around the South Island of New Zealand. Try 12 days and 3 200kms in a luxury air conditioned coach with 12 seats and 10 very comfortable beds on board!
The owners, who are naturists themselves, provide the personal touch with all meals provided and nightly stops at naturist campsites as well as co-ordinated naturist tours. You get the chance to really experience the wonderful vistas of the South Island whilst enjoying the ultimate freedom travelling! Tours run from October to April, which is New Zealand's summer.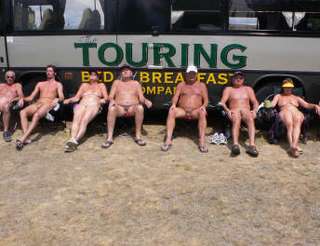 Explore the beautiful islands of the Caribbean by Private Yacht.
Discover the breathtaking coral reefs and white sandy beaches of the Caribbean. Sail into secluded anchorages and harbours that the cruise ships just can't get to. Find a new tropical island every day. Best of all, you can do it all in the nude! You can leave your swimsuits at home, and there is no need to dress for dinner!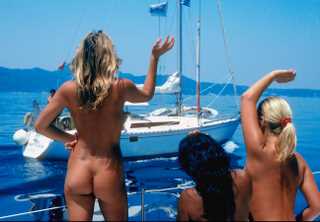 Why not try nude scuba diving in Croatia?
If you want an even greater feeling of freedom imagine the exhilaration of scuba diving naked in the crystal clear waters of the Adriatic Sea. Croatia offers many beautiful naturist beaches but also some very attractive scuba diving destinations. Explore the underwater caves, wrecks and coral reefs and discover the abundance of fish and plantlife - all found in a calm blue sea! If scuba diving is not for you, then don a mask and snorkel and try your hand at snorkelling so that you can still enjoy the wonders of the sealife.
So why not bare to be different and have your own adventure with an unusual naturist holiday!


---
Please subscribe to our newsletter Naturist Times. It tells you regularly about updates to our website plus other interesting naturist bits and pieces.