Vritomartis Hotel, Crete, Greece
by C & E
(Scotland)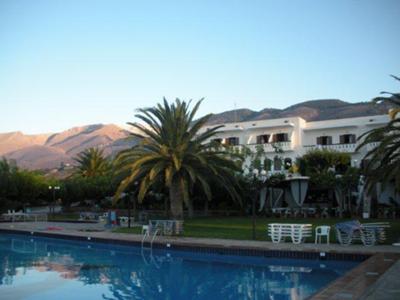 The main hotel from the swimming pool
The hotel is on the south coast of Crete looking out over the Libyan Sea. It is a 2 hour drive or bus journey south of Chania on the north coast and is just outside Chora Sfakia. The drive is through magnificent scenery with a giddy steep descent down to Vritomartis.

The hotel has 85 bedrooms some of which are bungalows and many of the rooms look out to the sea.

Though we had been to many naturist beaches in Europe and Australia, it was the first time we had been to a naturist hotel. Our standard room with sea view was fine and comfortable with a lovely view over the pool area and to the sea 800 metres away.

You are requested to be clothed in the hotel and at meal times but the grounds are 'au naturel'. The breakfast and evening dinner are buffets with the evening meal, outside on a terrace, in particular being excellent. There was regular evening entertainment which was reasonable.

Vritomartis has a swimming pool, a pool side taverna, volleyball and tennis court. Regular activities are organised including volleyball, bowls, water polo along with nude boat trips to naturist beaches along the coast. Filaki Beach (FKK) is 800 metres away down a minor road to which the hotel has a regular mini bus, though it is a pleasant walk. The beach has a taverna which with the heat we experienced in September 2010 we were thankful for.

We enjoyed our stay and will return next time we are in Crete.

Join in and write your own page! It's easy to do. How? Simply click here to return to Favourite Naturist Accommodation.
Please subscribe to our newsletter Naturist Times. It tells you regularly about updates to our website plus other interesting naturist bits and pieces.